This page is dedicated to the matches and catfights of one of the hottest women on the planet: Randy Moore.
Special Fantasies – Randy Moore vs Hollywood
Bear hugs galore by one of the most beautiful blonds to ever grace a ring Randy in her skimpy bikini faces off with a sleek Spider girl (Hollywood), a stare down that turns into a long test of strength.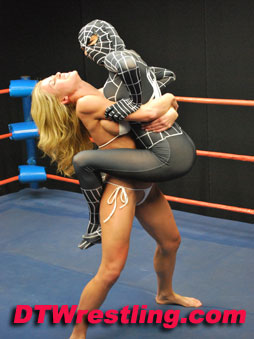 The strong gorgeous blond takes control and never loses it, and Randy enjoys destroying this web bitch, she employs great bear hugs both front and reverse, long painful waist and head scissors, corner splashes and butt slams to Spider's waist and head.
A work of art when ravishing Randy drops on web kitten and stretches her in a grapevine – seeing that beautiful rear and legs flexing…
Randy goes sans top and plants her delightful breasts in Spider's face for a smother, both then she plants just one one to cover her face.
Akira Lane vs Randy Moore – Pro Style Match
Two super hotties enter the ring in their heels and robes, fist comes Randy Moore, she strips to her sexy string bikini, next comes Akira Lane, she also strips down to her red frilly string bikini and looks so cute in her braids, they stretch showing off their fabulous bodies.
Many great holds to wear down before the pins, arm stretches, camel clutches, foot chokes, and even some lifts but always back to those pins – pins, pins and more pins. Two fabulous beauties doing whatever they have to to get that pin!
Last of the hot cover girls – Randy Moore vs JC Marie
If you looked up blonde bombshell in the encyclopedia you would find pictures of JC Marie and Randy Moore.
They are both stunning beauties with cartoon-like curvaceous bodies and tight tummies. These women are the epitome of modern beauty.
The fighting takes a quick pause as the ladies spray each other down with a water bottle. However, before you know it they are back on their knees bear hugging each other in a semi sensual tit fight. Hold on to your seats fellas because this match just keeps getting hotter and hotter.
Epic Battles – Randy Moore vs Erika Jordan
Sweaty, hot, nude ladies that lick and suck the sweat off of each other: Erika Jordan and Randy Moore love getting erotic, they are also very competitive, so when they decide to have different contests of strength and endurance they struggle all the way, thus the sweat.
They start out with a slow strip as they admire each others fine figures and firm muscles. Then it's to the contests starting out with a long arm wrestling contest that tests both of their muscular biceps – when finished the loser sucks the arms and body of the winner, getting her nipples hard with her wet tongue.
Now those nipples are just right for the next test as they pull each others pert nipples to see who can take the pain of this nipple torture – winner again gets her body sucked and stroked.
How much fun is this ?!
The Capri Caper – Capri Cavanni vs Randy Moore
Randy Moore and Capri Cavanni have two ultra sexy bodies, and they love to show them off.
This match begins with both girls stretching their curvy bodies. As the bell rings the two vixens go right at each other. Capri sits her beautiful ass on top of Randy's squirming face, and in return Randy bear-hugs the shit out of Capri.
The tits and tiny waists in this video are about as perfect as you will ever see, so when the girls loose their tops this match becomes unforgettable. Watching these toned beauties severely punish their opponents gorgeous body will be one of your greatest moments as a DT patron and perhaps, as a female fighting enthusiast.
Doom for one Moore – Randy Moore vs Sinn  Sage
Randy Moore is popular for a reason: she is so much fun to watch, even Sinn Sage loves watching her, but more than watching she enjoys rolling with her.
But Sinn isn't about to let this newbe come into her ring and walk out in one piece, right away she drops her beautiful bountiful butt on Randy's six pac abs, then rolls her into a scissors, next she shows us how wonderful Randy's body looks stretched in a bow and arrow.
The cocky Sinn is amazed when Randy turns the tables and puts a tight scissors around Sinn's tiny waist, it's back and forth they go, each taking her turn at destruction, see Randy splash her ass on Sinn's beautiful booty, and no one looks better being stretched in a boston crab or kneeling surf board than Randy Moore — she leaves us wanting so much more.
A scissors combined with a pubic claw draws us close to a painful finish, but not until we have been thoroughly satiated with wild young bodies stretching each other to the splitting point. Two fun girls make for one very fun match!!!
The Naked Edge – Randy Moore vs Nicole Oring
The tall, blonde, and busty, Randy Moore enters the ring in her American flag bikini, waiting to take on the Korean champion, Nicole Oring.
Randy is strong and skilled in the fundamentals, but Nicole is the best in the world at nerve holds and cheating. As the girls wrestle Nicole cackles loudly and grabs at Randy's crotch. Randy freezes from the dirty nerve clinch, completely at the mercy of Nicole.
Can our American hero overcome the foul tactics of her foreign foe or will a new power reign over the wrestling world. This international spectacle of beauty and competitions is a can't miss affair.
Ariel X vs Randy Moore – Moore than she can handle
Sexy Randy Moore in her little party dress nylons and heels is on the phone with her buddy Emily, she promises her she will get even with Ariel X for beating her up.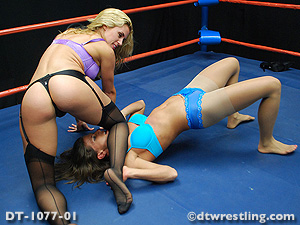 She strokes her lean legs then goes to the ring where they are waiting to take some photos of her, during this session she tells everyone what she plans on doing to Ariel X – to her surprise Ariel is there and ready to fight.
They meet in the center for a wild hair pulling tussle that takes them to the mat for some tight body rolling, then to everyone's surprise the blond takes control. In a tight school girl pin she slaps her around, then picks her up and throws Ariel X around like her toy doll.
Ariel X finally gets her turn and and bloodies up the sexy blonde before she puts a sustained face-sit on her. Both take their turns at destruction with hard slugs, kicks and low blows. Another wild battle to see who gets control of that precious belt – sexy ladies in sexy lingerie!