New exciting Tag Team match at Ultimate Surrender: Cheyenne Jewel, Bella Rossi, Mona Wales vs Mistress Kara, Penny Barber, Sasha Princess Banks. This match took place in front of a LIVE audience!
Newcomer Sasha Princess Banks is obviously inexperienced in terms of Ultimate Surrender wrestling and especially tag team competition, however being in the best wrestler's Team Queens (Mistress Kara) sure helps. And having Penny Barber as her tag team partner is not bad either.
On the other side, Cheyenne Jewel has put together Team Wrangler: Bella Rossi and Mona Wales. So every team has a veteran and a rookie, however it's worth mentioning that Mona Wales has a few matches this season, while Sasha Princess Banks has none.
There is some great wrestling going on, and both teams seem well prepared. So is the banter between long time rivals Bella Rossi and Penny Barber, found again on opposite teams.
However, in Ultimate Surrender tag team action, strategy is very important, and if the tags are used inefficiently, the team with the best individual wrestlers may lose in the end.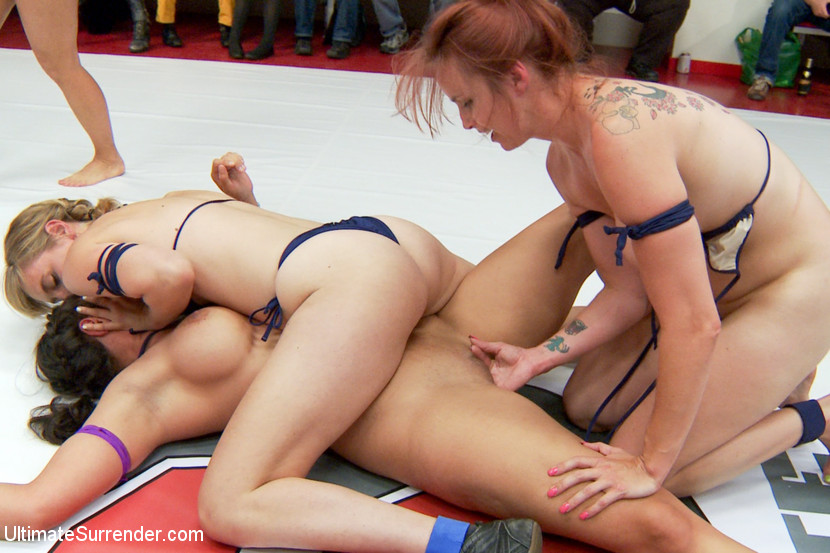 Who won? Check out the match to find out, as it went down to the wire!
Round 4 has everything, from strap-on action, to fisting, to tribbing. And along with the 6 ladies, referee Ariel X joins the action as well.